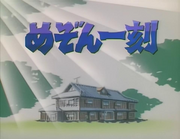 Alone Again (Naturally) is the second opening theme song for the anime and was only used in episode 24. It was performed by Gilbert O'Sullivan and originally released in 1972, when it was a number one single for six weeks on the American "Billboard Hot 100" singles chart. Due to copyright issues, the English dub received Kanashimi yo Konnichiwa as the opening theme for episode 24.
Ad blocker interference detected!
Wikia is a free-to-use site that makes money from advertising. We have a modified experience for viewers using ad blockers

Wikia is not accessible if you've made further modifications. Remove the custom ad blocker rule(s) and the page will load as expected.